As a nanotechnology leader, members of Zyvex are frequently invited to attend important conferences and events. Likewise, many important dignitaries also visit Zyvex to learn more about our products and ongoing research and development activities.
A small sampling of these events is listed below. To view earlier activities, click here.
December 2006: KITECH appoints Zyvex Founder to Advisory Committee.
December 2006: Students from Anchorage win 2nd place in Lego Tournament.
September 2006: Zyvex founder donates to NanoElectronics Research Center.
October 2005: Zyvex founder attends Buffalo Roundup in South Dakota.
July 2005: Texas A&M undergraduates tour Zyvex.
June 2005: Gyeonngi Province (Korea) delegation visits Zyvex.
May 2005: Zyvex co-hosts 11th Annual Micromachine Summit.
January 2005: Zyvex President meets with U.S. Senator George Allen.
January 2005: Zyvex Founder meets with U.S. Senate Majority Leader.
---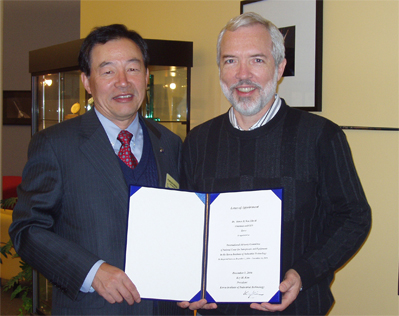 KITECH President appoints Zyvex Founder to International Advisory Committee.
Key H. Kim appoints Jim Von Ehr to the International Advisory Committee of the National Center for Nanoprocess and Equipment in the Korea Institute of Industrial Technology. [December 2006]
---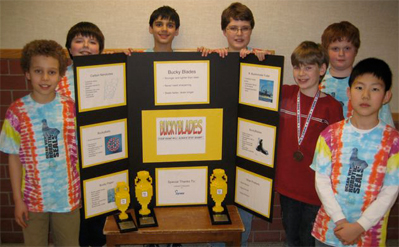 Ocean View Elementary Students win 2nd place in Lego League State Tournament.
Congratulations to the talented students who took 2nd place in the First Lego League State Tournament . Challenged with the task of "exploring existing sciences at the molecular level", the students had to develop a product, or improve an existing product. With the help of Zyvex, the students created a concept for a new line of ice hockey skates, Buckyblades, that have a composite blade made with carbon nanotubes that do not need to be sharpened. The picture below shows the three trophies they won for their project (Robot Design, Teamwork, and 2nd Place). [December 2006]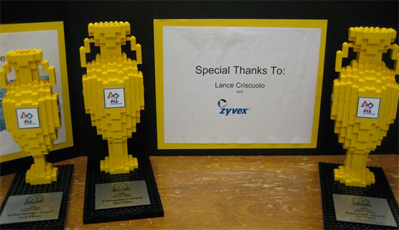 ---

Zyvex founder donates to NanoElectronics Research Center.
Gov. Rick Perry appeared at nanoTX '06 to announce to gathering of nanotechnology experts that the Texas has been awarded the nation's third nanoelectronics research center and promised to use a public-private fund to attract top research scientists to the state. Zyvex Founder and CEO Jim Von Ehr donated $1 Million to help fund the center. Read Jim Fuquay's article "State picked for high tech research site." [September 2006]
---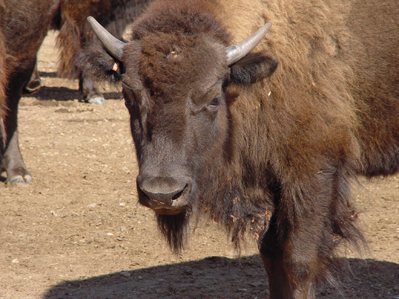 Zyvex founder attends Buffalo Roundup.
Jim Von Ehr attended the Buffalo Roundup with South Dakota Governor Mike Rounds. Custer State Park in the beautiful Black Hills is a 71,000 acre park. It is also home to one of the world's largest bison herds: 1,500 strong. Each year, the ground rumbles and the dust flies as cowboys, cowgirls and park crews saddle up to bring in the thundering herd. No, Jim wasn't part of the crew, but he did get close enough to get this great picture. [October 2005]
---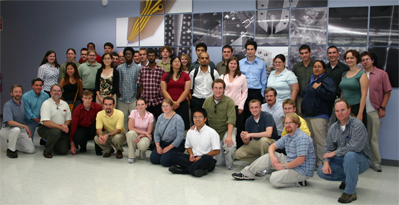 University of Arkansas undergraduates tour Zyvex.
Research professor Dr. Ken Vickers (3rd from left, front row) and students from the University of Arkansas' Microelectronics/Photonics program during a tour of Zyvex. [July 2005]
---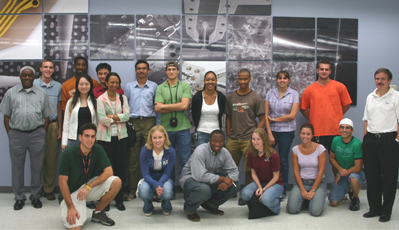 Texas A&M undergraduates tour Zyvex.
Zyvex's Chief Technical Officer, Dr. John Randall (at right), hosted a tour of undergraduates from Texas A&M University (TAMU). Dr. Dan Davis, Director of TAMU's Aerospace Engineering Program, is on the left. [July 2005]
---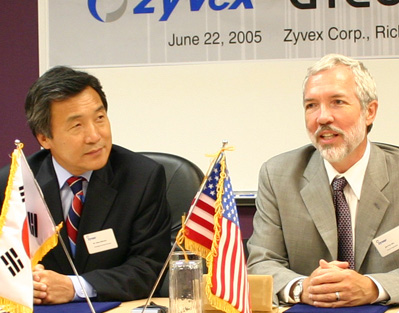 Gyeonggi Province Delegation visits Zyvex.
Dr. Sohn Hak-Kyu (Governor of Gyeonggi Province in Korea) and James R. Von Ehr II (Zyvex Founder, Chairman, and CEO) during the delegation's visit to Zyvex. [June 2005]
---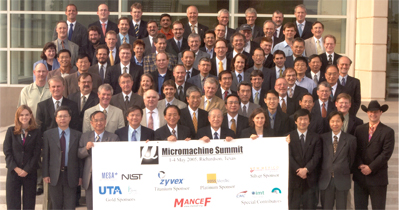 Zyvex co-hosts Micromachine Summit.
11th Annual Micromachine Summit Delgates, observers, and guests. Zyvex was a co-host and sponsor of the event. [May 2005]
---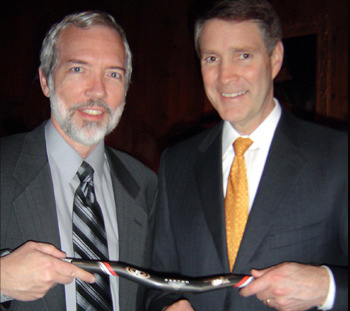 Zyvex Founder meets with U.S. Senate Majority Leader.
Zyvex Founder and CEO Jim Von Ehr shows U.S. Senator Bill Frist (Tennessee) Easton Sports' bicycle handlebars developed using Zyvex NanoSolve® materials. Senator Frist is the U.S. Senate Majority Leader. [ January 2005]