Speaking at the Fourth Foresight Conference on Molecular Nanotechnology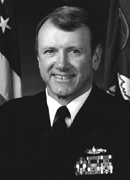 DAVID E. JEREMIAH
Admiral, United States Navy (Retired)
Admiral David E. Jeremiah is Partner and President of Technology Strategies & Alliances Corporation, a strategic advisory and investment banking firm engaged primarily in the aerospace, defense, telecommunications, and electronics industries.
During his military career Admiral Jeremiah earned a reputation as an authority on strategic planning, financial management and the policy implications of advanced technology.
Prior to leaving military service in February 1994, Admiral Jeremiah served four years as Vice Chairman Joint Chiefs of Staff for Generals Powell and Shalikashvili. He was Colin Powell's alter ego during the Gulf War and a key player for both Chairmen in the transition to a post-Cold War military.
Admiral Jeremiah was Commander in Chief of the United States Pacific Fleet from 1987-1991. He commanded a task force, battle group and destroyer squadron in earlier tours in the Mediterranean. In October 1985 he directed the capture of the Achille Lauro hijackers and in April 1986 led combat operations against Libya in the Gulf of Sidra. Ashore, Admiral Jeremiah served as Director, Navy Program Planning and in financial planning positions on the staffs of the Secretary of Defense and Chief of Naval Operations.
Currently, Admiral Jeremiah serves on the Boards of Directors for Litton Industries, Alliant Techsystems Inc., Geobiotics, Inc., GSE Systems, Inc. and Standard Missile Company, advisory boards for Texas Instruments and ManTech International, and the Defense Policy Board that advises the Secretary of Defense.
Admiral Jeremiah earned a bachelors degree in Business Administration from the University of Oregon and a masters degree in Financial Management from George Washington University. He completed the Program for Management Development at Harvard University.
He and his wife Connie live in Oakton, Virginia. They have two adult daughters.
7 August 1995